Diabetic Screening & Follow up
Diabetic Retinopathy?
Diabetic retinopathy, the most common diabetic eye disease, occurs when blood vessels in the retina change. Sometimes these vessels swell and leak fluid or even close off completely. In other cases, abnormal new blood vessels grow on the surface of the retina. When blood sugar levels are too high for extended periods of time, it can damage capillaries (tiny blood vessels) that supply blood to the retina. Over time, these blood vessels begin to leak fluids and fats, causing edema (swelling). Eventually, these vessels can close off, called ischemia. These problems are signs of non-proliferative diabetic retinopathy (NPDR).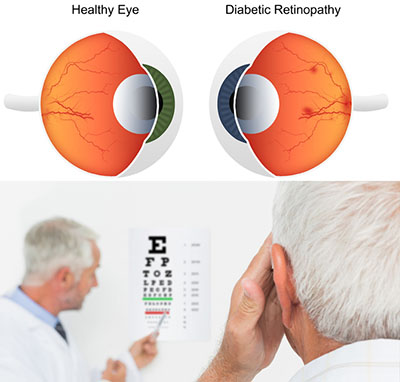 Diabetic retinopathy symptoms usually affect both eyes. You can have diabetic retinopathy and not be aware of it, since the early stages of diabetic retinopathy often don't have symptoms. However, as the disease progresses, symptoms may include:
Spots, dots or cobweb-like dark strings floating in your vision (called floaters);
Blurred vision;
Vision that changes periodically from blurry to clear;
Blank or dark areas in your field of vision;
Poor night vision;
Colours appear washed out or different;
Vision loss.
The only way to detect diabetic retinopathy and to monitor its progression is through a comprehensive eye exam. The best treatment for diabetic retinopathy is to prevent it. Strict control of your blood sugar will significantly reduce the long-term risk of vision loss. Treatment usually won't cure diabetic retinopathy nor does it usually restore normal vision, but it may slow the progression of vision loss. Without treatment, diabetic retinopathy progresses steadily from minimal to severe stages.
The following surgery might aid in the decreasing of diabetic retinopathy:
Laser surgery
The laser is a very bright, finely focused light. It passes through the clear cornea, lens and vitreous without affecting them in any way. Laser surgery shrinks abnormal new vessels and reduces macular swelling. Treatment is often recommended for people with macular edema, proliferative diabetic retinopathy (PDR) and neovascular glaucoma.
Vitrectomy surgery
Vitrectomy is a surgical procedure performed in a hospital or ambulatory surgery centre operating room. It is often performed on an outpatient basis or with a short hospital stay. Either a local or general anesthetic may be used.
Medication injections
In some cases, medication may be used to help treat diabetic retinopathy. Sometimes a steroid medication is used. In other cases, you may be given an anti-VEGF medication. This medication works by blocking a substance known as vascular endothelial growth factor, or VEGF. This substance contributes to abnormal blood vessel growth in the eye which can affect your vision. An anti-VEGF drug can help reduce the growth of these abnormal blood vessels.