Glaucoma Screening & Follow up
Ophthalmologists Recommend a Check to Establish a Baseline of Eye Health
Glaucoma is a disease that damages your eye's optic nerve. It usually happens when fluid builds up in the front part of your eye. That extra fluid increases the pressure in your eye, damaging the optic nerve. Glaucoma causes include elevated eye pressure (called intraocular pressure or IOP) due to the eye's inability to drain fluid efficiently.
The only sure way to diagnose glaucoma is with a complete eye exam. A glaucoma screening that only checks eye pressure is not enough to find glaucoma. How your glaucoma is treated will depend on your specific type of glaucoma, the severity of your disease and how well it responds to treatment.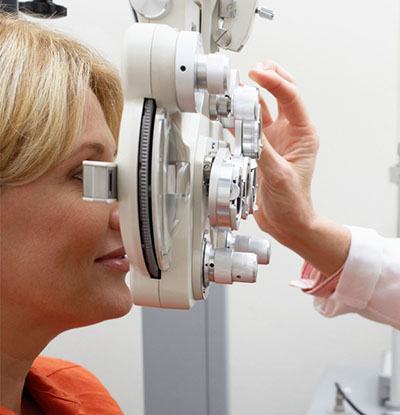 Glaucoma damage is permanent—it cannot be reversed. But medicine and surgery help to stop further damage. To treat glaucoma, your ophthalmologist may use medicated eye drops are the most common way to treat glaucoma. These medications lower your eye pressure in one of two ways — either by reducing the amount of fluid created in the eye or by helping this fluid flow out of the eye through the drainage angle.
Glaucoma medications can help you keep your vision, but they may also produce side effects. Some eye drops may cause:
a stinging or itching sensation;
red eyes or red skin around the eyes;
changes in your pulse and heartbeat;
changes in your energy level;
changes in breathing (especially if you have;
asthma or breathing problems);
dry mouth;
blurred vision;
eyelash growth; or,
changes in your eye colour, the skin around your eyes or eyelid appearance.
These eye drops must be taken every day. Just like any other medication, it is important to take your eye drops regularly as prescribed by your ophthalmologist.
Once you are taking medications for glaucoma, your ophthalmologist will want to see you regularly. You can expect to visit your ophthalmologist about every 3–6 months. However, this can vary depending on your treatment needs.