Laser vision correction
About Dr. Dylan A Joseph
Visit Dr Joseph website: drdylanjoseph.com
Dr Joseph is a consultant ophthalmic surgeon who has been fellowship trained in refractive, lens and cataract surgery at a world-leading clinic in Dublin, Ireland with Mr Arthur Cummings. Having spent two years perfecting the art of laser vision correction whilst abroad, Dr Joseph has returned to the Garden Route to provide the same level of expertise on identical technology he used in Europe.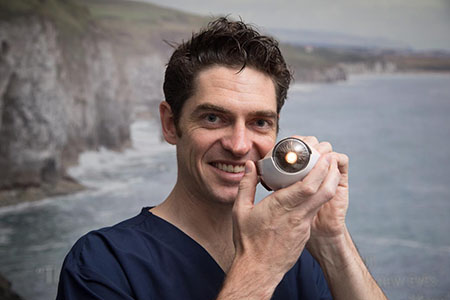 He qualified from the University of Bloemfontein in South Africa, cum laude, winning the prestigious Dean's medal. This award is bestowed upon the student in the post-graduate medical faculty with the highest overall marks accumulated during training. He also completed his post-graduate degree at the College of Surgeons of South Africa and is registered as a specialist ophthalmic surgeon with the Irish Medical Council and the General Medical Council in Britain.
Dr Joseph was involved in the first clinical trials in the world with Mr Cummings for the Streamlight laser vision correction procedure, which was presented to the world at the European Society of Cataract and Refractive Surgeons in 2018. At his refractive suite, which is situated in the Advanced Surgical Centre in Knysna, Dr Joseph uses among the safest, most efficient and advanced technology to treat his patients. The WaveLight refractive suite is one of two full suites in the country which is entirely bladeless and provides a platform to fully customise and optimise your vision.
Dr Joseph offers Contoura ™ Vision LASIK, which is completely customised to the contour of your eye, targeting the best visual quality and contrast under all lighting conditions. He also focuses on cataract and lens-based surgery, with vast experience in EDOF or the extended depth of field technology, and trifocal intraocular lens implants. These types of advanced laser vision modalities and lens procedures in South Africa and across the globe help to reduce, or eliminate in most cases, your dependency on eye spectacles, contact lenses or reading glasses.
Whether performing refractive surgery or cataract surgery, Dr Joseph strives to attain the best possible visual outcome for his patients. For more info, visit drdylanjoseph.com.